I just realized that I posted a sneak of the
July Nook kit
, but never posted the whole shebang:
It is filled with My Mind's Eye Indie Chic and Jillibean Soup embellishments. I adore the colors in the kit! You can snag yours
HERE
;) You can check out the grab bag
HERE
, which is filled with another color story from the Indie Chic line:)
If you want to see some amazing pretties put together with the kit, check out the design team gallery
HERE
....it always amazes me what these girls can do!
******
In other Nook news, have you been playing along with our celebrate summer challenges? There is about a month left, so I hope you have been enjoying the inspiring challenges going on there!! Check them out
HERE
!!
******
I have a few other scrapbook related things to chat about, one being the American Crafts team. My year is almost up with them and I would have loved to stay on another year, but my name is not on the list of new designers. I will admit that I was sad for a teeny bit, but I am fine with it now. I will always be grateful for them giving me a chance and the opportunity to work with them for a year was amazing and a dream come true. I can't be too sad about it when the list of girls is completely inspiring and there are lots of friends on there. Check them out
HERE
!

One thing that I am extremely grateful for from being on design teams, is getting to "meet" so many sweet girls. I get to be exposed to people whose work I have not really seen before and get to know them and see their inspiring works, so I am really glad for that;)
******
2 other fun things...a couple of months ago, I received an e-mail from the editor of Scrapbook Trends asking if they could use one of my layouts and feature me for the award-winning style article in the July issue of Scrapbook Trends. I of course responded with a YES!! The layout they wanted to use has one of my most very favorite pictures of A on it;) I haven't found a copy of the July Scrapbook Trends anywhere around here yet, so I haven't seen the article in person, but they do have a little feature on their blog
HERE
:)
The other is that I was one of the winners of the
June Color Challenge at Crate Paper
! I made a layout with all of my pink bits and pieces from various Crate lines and made a funky grid: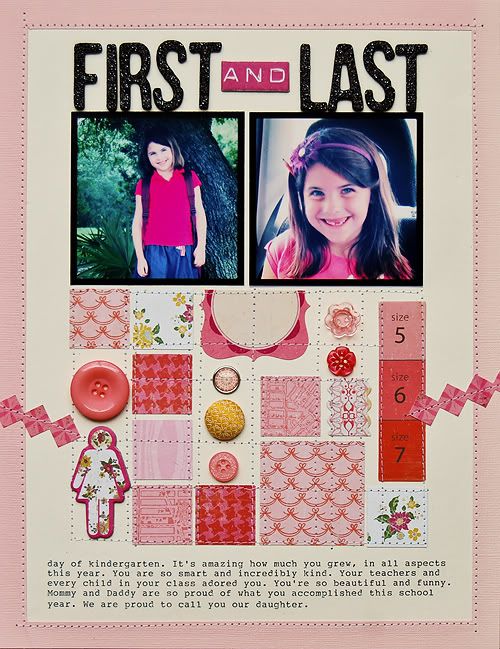 It has been awhile since I made a 8.5x11 page, it was fun:)
I was so surprised to see my page listed on
their blog
!!! I got to pick one of their collections as a prize and I chose the
Little Boy Blue line
:)
That's all for now;) I should have a few scrapbook projects to share this week, so check back later!
Hope everyone is having a wonderful weekend:)