Finally getting around to posting pictures of my new scrap space. In the kitchen, there is a breakfast nook, but since we have a pretty large dining room table here, I snatched up that space as my own:)
Here is a peek standing in the kitchen, looking towards my desk: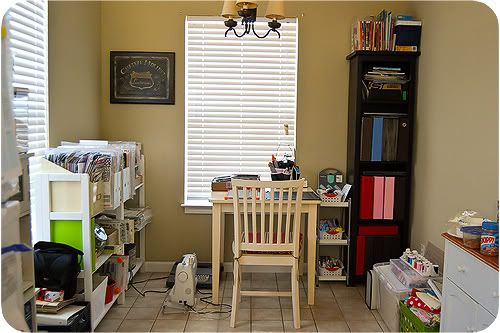 Looking out how I have it set up now...I can't believe how I just had all this stuff next to our bed in the condo!
Here is a peek at the shelves: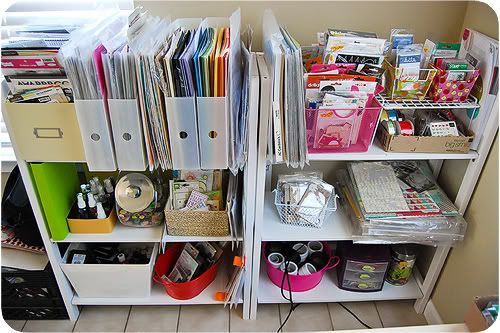 from left to right, top to bottom I have:
stickers, paper and cardstock,
American Crafts goodies
, binder with rub-ons, mists, buttons, embellishments,
ormolu goodies
,
nook kits
, inks/paints, stamps, embellishments, drawers have twine and bling in them, jar of ribbon
a view of this shelf:
the smaller shelf on the left holds my punches. the tall shelf from top to bottom:
magazines, basket of extra adhesive, miscellaneous things, box of cards, homeless layouts, all my albums.
in front of the shelf is all of my sewing stuff...which will hopefully get used now that it's not in our closet;)
and a peek of the top of my desk...which has a peek of a challenge I am doing this Saturday for the
Nook crop
;)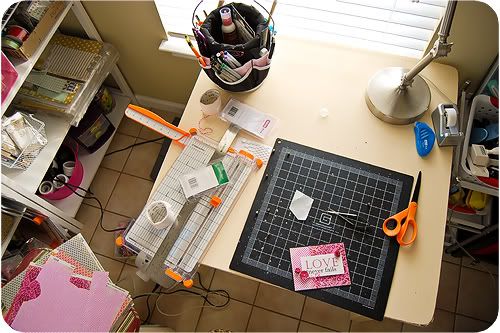 this space certainly isn't fancy or matching, but I love it:) I am one happy girl to have a dedicated space to scrapbook in again:)