Hello friends! I have all kinds of exciting news to share with you today:)
The first thing is that I am now part of the design team at
My Scrapbook Nook
! I cannot tell you how excited I am for this!!! I am even more happy to see some of my sweet friends on the list:)
Here is the new team:
Anna Sigga- Iceland
Carol Monson- USA
Danni Reid-USA
Deanna Misner- USA
Gina Rodgers-Australia
Hilde Aaslund- Norway
Jaz Lee- Singapore
Jessy Christopher-Malaysia
Katarina Damm-Blomberg- Finland
Kim Moreno-USA
Leah Killian-USA
LG Belarmino- Phillipeans
Lilith Eeckles- Belgium
Lisa Kisch- Canada
Marinette Lefevre- France
Nicole Nowosad- Canada
Pamella Brown-USA
Shelleye McDaniel-USA
Stacey Michaud- USA
I am so excited to get started working with these fabulous ladies:)
So the next news is that I will be the featured designer in the February 2012 issue of CARDS magazine. I am super stoked about that and am working on some cards for the article that I can't wait to show you!
And finally, I have been invited to teach a class at
Miss Arts Papercrafting School
. I am so excited about this opportunity! We are working out the details and I will give you more information soon, but the class will be in December:)
***

The Bella Blvd e-mails have gone out and I did not receive one, but that means I can share my pages I created for the application:)
I worked with the Mr. Boy collection, which was perfect for K;)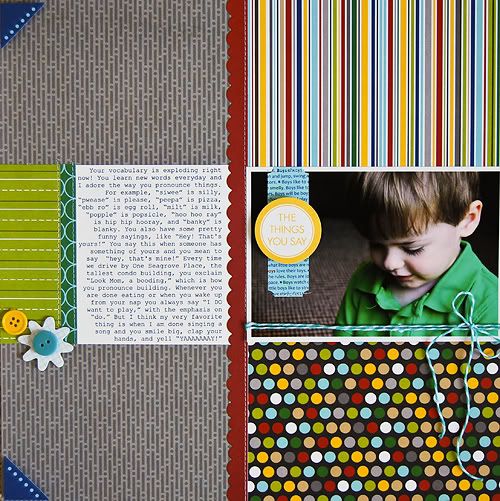 I also participated in another photo swap on the Nook and
Carol
was my partner. She sent me these pictures of her son doing tricks in the pool and I came up with this: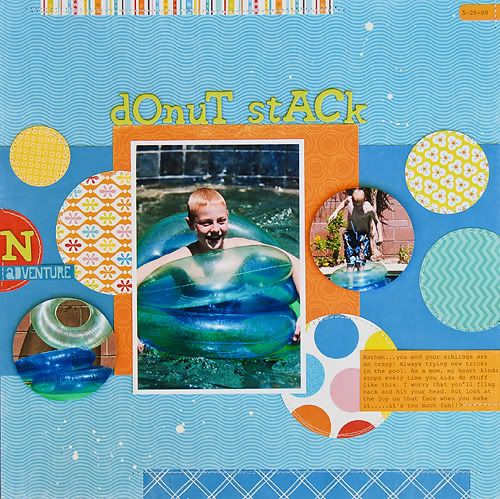 I used the Echo Park Splash collection for this.
I sent her pictures of A getting her face painted and she sent me this:
I adore it!!! I love the butterfly and the colors she pulled from the photos. Thank you so much Carol!!!
So that is all for now;) I am working on things I can't share yet, plus it's Aislynn's birthday this weekend and with family in town, the blog may be kinda quiet;)