The magical day has happened. When we in FL, wake up and the weather is cool...to us it feels freezing, but that could just be that we are wanting to throw on sweaters and put away our flip flops like the rest of the country has now for weeks. We will still get some upper eighties days, but I am almost certain our version of Fall is here...yippee!! Besides the weather, other things are changing around here too.
I am starting a new job, just part time, and we are able to work it so that Shaun will be able to stay home with Kieran while I am working and Aislynn is at school, so I am thankful for that. I will be working in a cute kids store a couple miles down the road. I feel a bit anxious about it...not because I think it will be hard or that I won't like it...just about the change in our lives. But this is something we have to do, it will help our finances tremendously, so that is good.
***
So with that change, I will be blogging more sporadically until I get in the swing of things. I am totally abandoning my daily themed posts and going more with the flow. I have lots of fun news to share with you in this post regarding the companies I am lucky enough to design for, so here goes!!!
The
October Kit
from My Scrapbook Nook is here and it is beautiful! I'll admit I was a little scared to cut into it at first, but now that I have, I don't want to put it away...anyone know how to add a few more hours in the day?!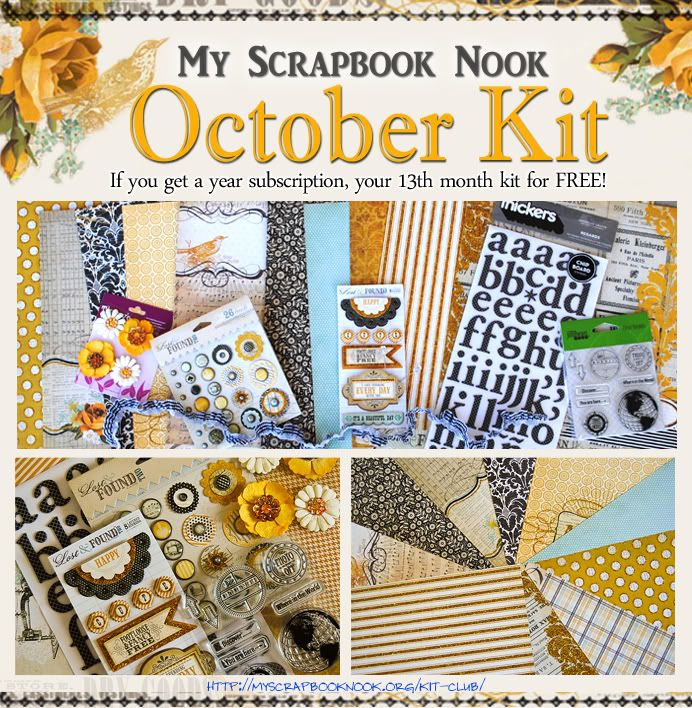 You can get your kit
here
!
In other Nook news,
My Scrapbook Nook is now on pinterest
! Yay!! So excited about this! So make sure you upload your kit creations into the gallery, because you never know what will get pinned;) ;)
The Nook also has a limited edition card kit class right now, filled with My Mind's Eye Lost and Found II. Here are a few peeks at the kit:
The fabulous Danni Reid is cooking up instructions for her sample cards, which are sure to be lovely coming from her!!
You can get the
kit+class here
, for $34.95, and a little birdie says there are not very many left, so what are you waiting for?!
***
In American Crafts news....oh, I am soooo excited about this one...they have purchased the retail part of Studio Calico. You can read more about this adventure
here
!!
***
I think that is all my news for right now, lol! I'll be back tomorrow with some
Ormolu
news;)