Lately I have found myself hunting through older photos to scrap...mostly from the time period when I was pregnant with K. I know there are many great pictures/stories that I haven't gotten around to yet, especially because when I was pregnant with K, it seems like the creativeness in me was not functioning;) Here is one layout I did using a photo during that time period, and the story just makes me smile:
a close up of the journaling:
Love it. She totally doesn't believe us when we tell her she used to say this, but I have
the blog post
to prove it;)
Some more detail shots: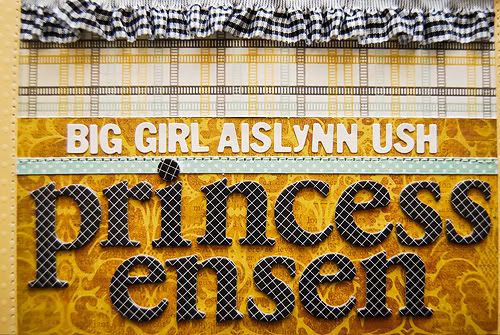 The next layout features a photo taken only a month after the one above. My little helper baking with me...we both know the reason she helps though (to this day, ha!):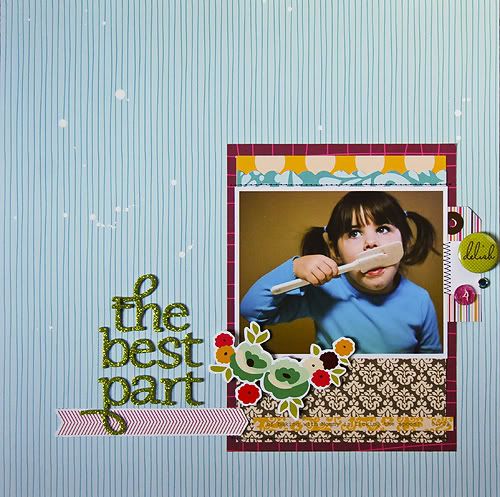 K has now caught on...as soon as he hears the mixer on, he comes running for a taste;)
Some detail shots:
I used American Crafts Garden Cafe line here. I am sooooo so in love with that thicker font. One of my faves, for sure!
Supplies: Poppy's Pub Paper (35542) - Garden Cafe, Magnolia Cafe Paper (35536) - Garden Cafe, Sunflower Deli Paper (35531) - Garden Cafe, Orchid Bistro Paper (35533) - Garden Cafe, Rose's Kitchen Paper (35540) - Garden Cafe, Cafe Iris Paper (35541) - Garden Cafe, Eclair Cucumber (53226) - Thickers, Garden Cafe Glitter Buttons (85563) - Elements, Garden Cafe Medium Jewel Brads (85565) - Elements, Savor (42210) - Remarks Books, Delish (70073) - Flair, Printed Variety Tags (77256) - Bits
Have you gone through your older photos lately and discovered any gems?!