With some days having Mom in charge, and some days having Dad in charge, this little stinker has not been too consistent with his naps. Most of the time, Shaun can lay him in his crib and he goes to sleep. When I am home, he expects me to rock him to sleep for his naps. Maybe I shouldn't, but I do. I am holding on to the "baby" stuff for as long as I can. It is a sweet time...he resists the sleepiness at first, wiggling and protesting...but eventually he snuggles up with "banky" and when he is just about to completely give in to sleep, he sucks on one of the corners of "banky." He has been doing this to his blanket since we weaned him from the pacifier when he turned a year.
I snapped this picture back in August, when I was doing Week in the Life, and it fit perfect for this story, right now:)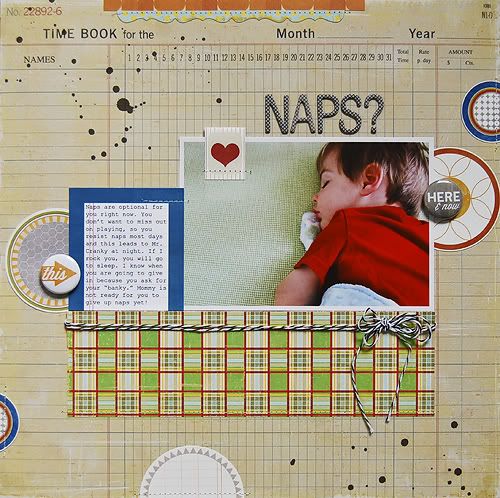 I had this layout up on the
Ormolu blog
last week. Oh, how I loooooooove the new releases. Love.
***
In other Ormolu news,
Christa
is hosting a
color challenge
that runs through November 21st. Check it out, GREAT colors and example page she has up there:)
Kaitlin also updated the shop tonight with some more goodies...

fabric swatches (which I received over the weekend and ooooooh, do I love them!)
Cute, right? It measures 9x7 inches and is 1.5 inches wide. Can see using this for lots of little projects.
That's all I've got for now! I had a fun guest opportunity for November, which I hope I can share soon, I also have some American Crafts projects but I still need to photograph them;)
Hope everyone had a great weekend!!!