Aislynn and I did a fun craft a couple weeks ago and I wanted to share:) It includes putting paint on your feet and she was a little concerned because she didn't want to get paint on the floor, but I assured her I would not let her walk around with paint on her feet;)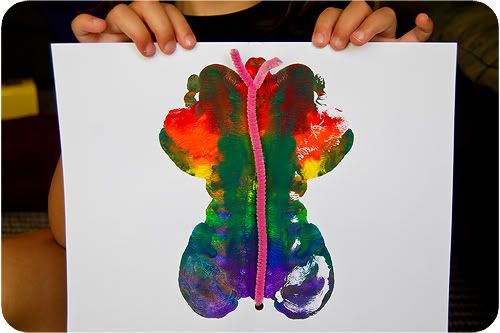 First gather up your supplies...white cardstock, a pipe cleaner, paint (colors are your choice...Miss A had to have rainbow colors), a paint brush, a hole punch or scissors, tape, and wipes or paper towels to clean up the piggies.
Fold your cardstock in half and open it back up. Then paint the bottom of your child's foot and stamp it down right next to the fold on the paper. If you paint the right foot, you will need to stamp it on the left side of the fold and if you do the left foot, you will need to stamp it to the right of the fold. After you stamp the footprint, fold the paper in half and rub over the paper. Open it back up and you have a butterfly. After the paint dries, you can add a hole with your punch or scissors at the top and bottom of the butterfly, right on the fold mark. Snip about 2 inches from your pipe cleaner and thread the long part through the hole. Tape the ends to the back of the cardstock. Weave the small part of the pipe cleaner at the top of the long pipe cleaner and fold it up into a V for the antennas.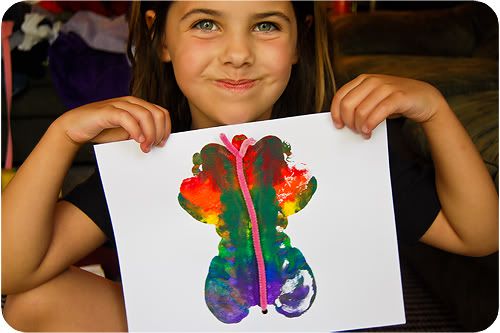 Ta Da!
***
I hope everyone had a fantastic weekend and all the Mama's out there had a Happy Mother's Day! I have lots of pictures to share from the last couple weeks and I'll get them all edited and up her eventually;)