I am slowly starting to get back into the routine...last week with Kieran threw us off, but I am determined to get back into the groove. Which means picking up the camera more. This is a pretty K picture heavy post, but he is who is around most of the time now...and he doesn't complain about having the camera around;)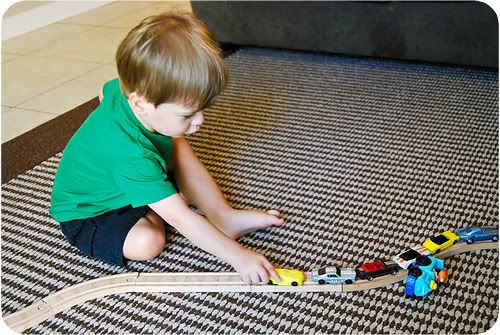 Here he is driving his cars. You can tell by his face he is making "vroom" sounds:) I was asking him what color each car was and apparently they are all green;)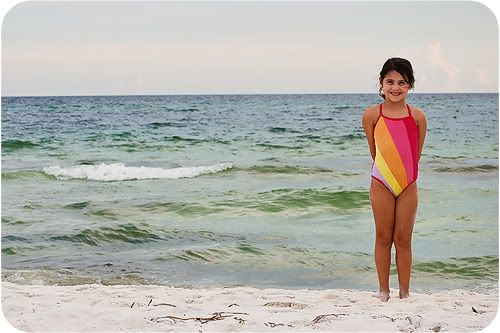 We went to the beach Sunday. It was short lived because a thunderstorm was looming and the water was filled with sea weed:( We picked up our kayak from my in-laws beach house and Shaun and Aislynn took that to the beach while Kieran and I drove. Kieran went back with Shaun and took a shovel (or "shubble") with him and Shaun said he kept dipping it in the water to help him paddle;)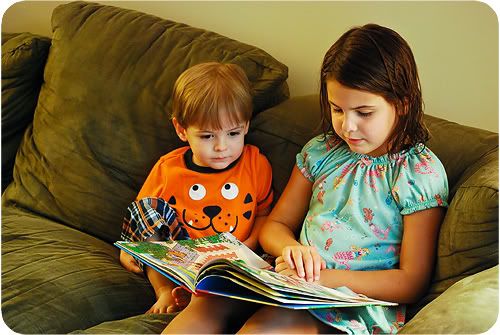 Proof that Aislynn be a nice big sister....she picked out this Thomas book and asked Kieran if he wanted her to read it, which of course he did:)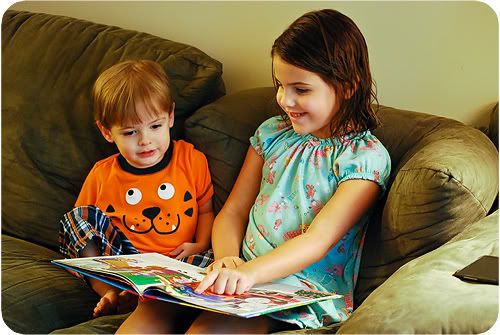 :)
Can't you just see the stinker in this guy? It is a good thing he is cute:)
While A is off at school, he likes incorporating her toys into his play...like using her little dog house for a house for the trains.
or using the mail truck to give a twist to pony rides;)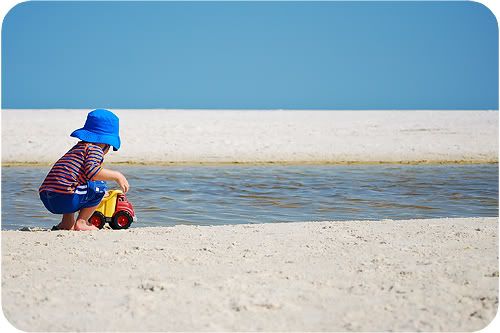 We headed back to the beach after school yesterday because it was such a beautiful day. It was amazing the difference in sea weed...there was hardly any!
K and I drove while A and S brought the kayak...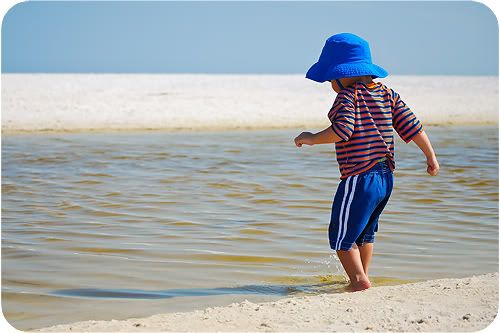 This is my new favorite picture. See how clear the water is? It was so pretty and the temperature was perfect too!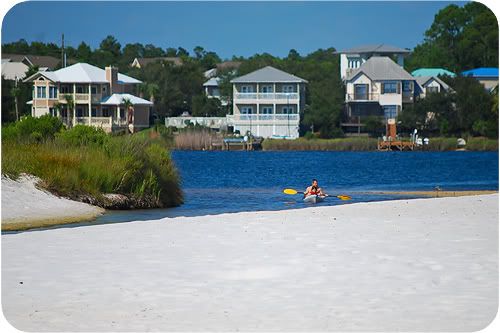 Here are A and S coming up through the lake. I put the camera away after this so we could all go swim in the gulf. As soon as my foot brushed against a crab, I was out! I have become such a wimp about swimming in the water as I have gotten older!
I hope everyone has a great weekend! We have no plans, but maybe we will make it to the beach again. It is so nice this time of year once the beaches aren't so crowded;)