Good morning and Merry Christmas Eve to you all. We headed last night to Jacksonville to spend Christmas at my Mom's. All of my siblings are able to make it here, so yay...we will all get to spend some time together! A couple of years ago, everyone was able to make it to our house and it was a wonderful time, Shaun and I both agree it was one of our favorite Christmases!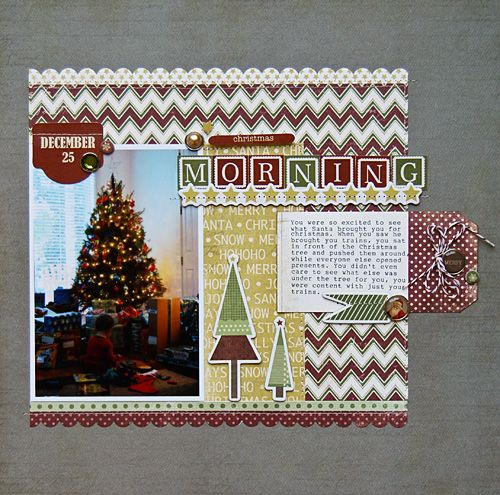 The first thing Kieran did when coming out of his room that morning, was drop by Santa's plate of cookies and eat the remaining crumbs. As soon as he saw what was under the tree for him (trains!!) he stayed there all morning, while everyone else was opening presents. He stayed and pushed his trains around. I love that 2 years later, he is still so into trains...and I have a feeling he is going to love what Santa brings him this year too;)
I am normally drawn to the Christmas collections that have bright colors and a more modern feel, but this collection works for me...I like the classic photo of a child playing under the tree on Christmas morning paired with the classic Christmas color palette.
I have a little how-to on the
Carta Bella blog
about printing journaling directly on tags
HERE
if you wanna check it out.
I want to wish everyone a very Merry Christmas. Enjoy the time with your loved ones. I have a lot of time off right now, so I am going to take a self-imposed blogging hiatus until after the new year.
Catch ya in 2013!