Good morning! I hope you all had a wonderful weekend! We had a good one...the kids had fun at Mimi and Papa's and we had a lot of fun at my work Christmas party...taking first prize for best couple sweaters (it was an ugly Christmas sweater party). I will be sure to post a picture soon;)
I got a call from school yesterday saying Aislynn had lice and we needed to come pick her up. Ugh. It has been going around her class, so I suppose it was inevitable. So that has not been very fun at all, doing the hair treatments and washing everything. Any tips you have or experiences you want to share, please do!!
When I saw the rubber duckies on the patterned paper, I knew I wanted to create some sort of bath related page. The kids love taking bubble baths, so sometimes when they are bored in the late afternoon, we take bubble baths. They don't get bubbles in their baths at night (usually) and since they know they don't have to go to bed afterwards...it makes it that much more fun;)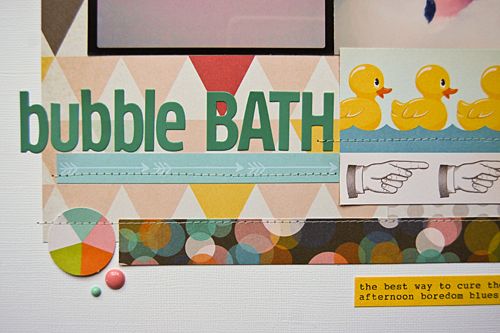 I also loved that piece of October Afternoon Midway patterned paper that mimics bubbles...perfect, yes?
Here is the other page I created:

removed for publication

more of that paper
I am enjoying this kit so much! I will have one more project for sure, and if time permits, more...but we are getting to Christmas crunch time...can you believe we are 2 weeks away?!