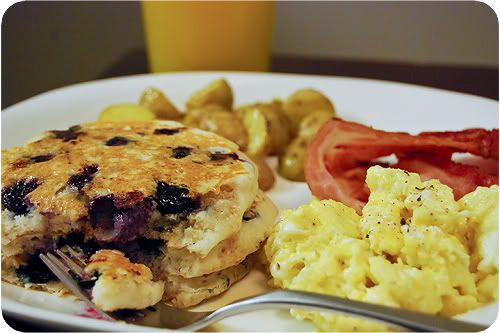 I tried to make this picture more appealing, but I was working with bad dining room light and I was hungry and wanted to be like the rest of my family and devour this yummy breakfast. Yes, for Father's Day we had a giant breakfast feast and it was delicious:) I have been making these blueberry pancakes a lot lately since blueberries are so yummy and cheap right now. This is just the basic pancake recipe I use with the addition of blueberries (I have done chocolate chips or a 1/2 tsp of cinnamon too).
Blueberry Pancakes (makes about 12-13 pancakes)
1 1/2 cup all-purpose flour
1 tbsp white sugar
1 tsp salt
3 1/2 tsp baking soda
1 tsp vanilla extract
3 tbsp melted butter
1 egg
1 1/4 cup milk
pint of blueberries
1. In a large bowl, whisk together flour, white sugar, salt, and baking soda. Add in vanilla, egg, butter, and milk and stir to combine.
2. Using a 1/4 measuring cup, pour the batter onto your skillet heated over medium heat. Sprinkle blueberries on each pancake before you flip it.
**You may have to work with the heat level. I usually do the first batch at medium high heat and then the next couple batches at a little less than medium heat.
Enjoy!!!