I hope everyone had a great weekend, it seemed like it went by super fast to me. On Saturday, while K was napping, A and I decided to bake something and we decided on these
peanut butter chocolate chip cookies from Smitten Kitchen
. They were quite scrumptious and I am embarrassed to say they are all gone already! I just changed up one thing in the original recipe because we didn't have any peanut butter chips.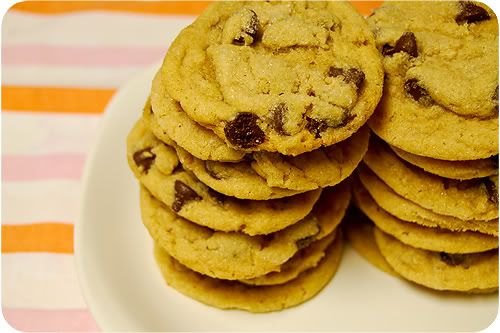 Chocolate Chip Peanut Butter Cookies
1 1/4 cups all purpose flour
3/4 tsp baking soda
1/2 tsp baking powder
1/4 tsp salt
1/2 cup (1 stick) unsalted butter, softened
1 cup peanut butter at room temperature (I used smooth)
3/4 cup sugar
1/2 cup firmly packed brown sugar
1 large egg, room temperature
1 tbsp milk
1 tsp vanilla extract
1 cup semi-sweet chocolate chips
1 tbsp sugar for sprinkling
1. Preheat oven to 350 degrees. In a large bowl, combine the flour, baking soda, baking powder, and salt. Set aside.
2. In a large bowl, beat together the butter and peanut butte until fluffy. Add sugars and beat until smooth. Add the egg and mix well. Add the milk and vanilla extract. Add the flour mixture and beat thoroughly. Stir in chocolate chips.
3. Place extra sugar onto a plate and drop rounded tablespoons of the cookie dough and turn to coat. Place on ungreased cookies sheets, leaving several inches inbetween each dough ball. Bake for 10-12 minutes. Cookies might appear to not be done, but they are:) Don't overbake them like I did the first batch I put in the oven (even though when dipped in a glass of milk they were still delicious!).
4. Let cool on pan for 1 minute and then transfer cookies to wire cooling racks to cool completely.