with my photos for December. Some days I have taken more than others and have more stories to tell, but the way I am approaching my album is to include 25 stories from the month, rather than 25 days. Some of my album was posted on the
Ormolu blog here
, take a peek if you'd like!
Now on to what we have been up to...
I saw this in Disney Family Fun magazine. The first time I made it, we used olives for the eyes, but theses kids eat olives like they are candy, so we ran out pretty quickly. So weird, Shaun and I both don't like olives, but the kids love them! The photo in the magazine had red pepper strips for the mouth, but the ones at the store looked not so good, so we used pepperoni.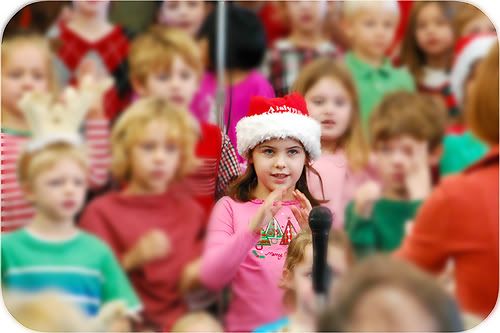 Aislynn's school Christmas program, The Incredible Reindeer:) I could tell she was searching the crowds for us, and once she found us, she kept on waving!
The red cups. Even though I *know* you can still order holiday drinks not at Christmas, there is something about the red cup that makes me happy:) This year, my drink of choice is an eggnog chai latte. Try it, it is so yummy! The eggnog really compliments the spices in the chai!
We heard about a 14 feet high gingerbread house in the lobby of one of the hotels around here, so we went to check it out. They had a train running around and around it, can you guess who just loved that (and threw a gigantic fit when we were leaving the choo choo)?
There was a giant column in the middle with marshmallows...any guesses on how many?
over 3,000! When Aislynn heard that, she commented on how she wished she could eat the gingerbread house!
We drove around and looked at lights and we saw this house which was insane how many lights it had! The kids were amazed...heck, Shaun and I were amazed! This photo doesn't even do it justice, the front, side, and back of the house were covered in lights, and the front had a little pond in the yard, so there was a beautiful reflection of the trees in the water.
Battling the sickies...every year around this time, it seems like something goes through all of us. Shaun and I got over it fairly quickly, but the kids are just now starting to get over it. Nothing serious, just low-grade fever, sore throat, congestion, cough...that kinda stuff.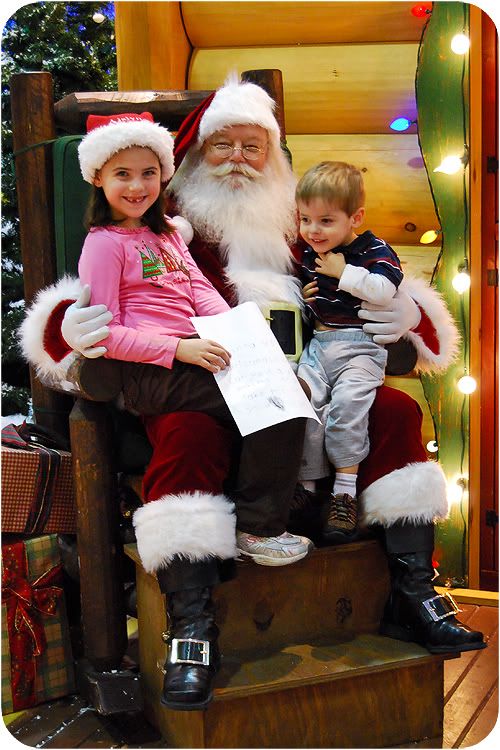 Meeting Santa. The last 2 years, Kieran was so unsure about Santa, but this year, while waiting in line, Kieran kept calling out Santa and waving...trying to get his attention! Once he got on his lap, he totally turned shy!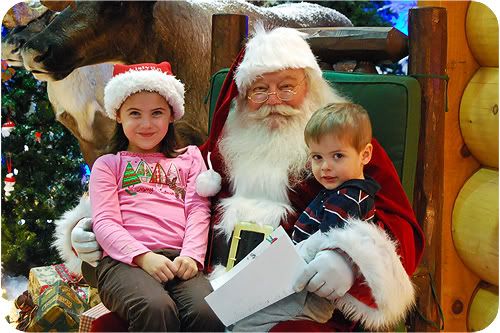 Aislynn drew Santa a picture of her and him on his sleigh, with a note asking if she could go on his sleigh with him;) He said a lot of kids ask him that and that if he took all of the kids that asked, there would be no room on his sleigh! He also told her that her parents might be worried about her when she was gone;) Then Aislynn told him she wanted oil pastels. When Santa asked Kieran what he wanted, he just smiled at Santa. Santa asked him if he liked cars and Kieran said yes, then Santa asked him if he liked trains and he said yes, with more enthusiasm. Then Santa asked him if he liked Thomas the Train, and Kieran replied with a very VERY excited yes!!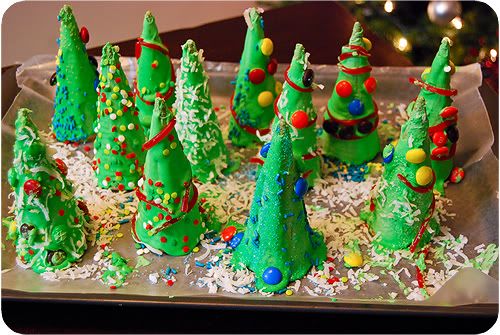 and finally a craft inspired by
this pin
. The kids enjoyed this so much!! We have plans to do our gingerbread houses soon.
I hope everyone is enjoying their December!!